BodyThetan Show - February 12 2011
A positively spring-like Saturday. About fifteen suppressives turned up outside the Queen Victoria Street "Ideal Morgue". Normally, because of rebuilding at nearby Blackfriars station, the street outside the "org" is occupied by parked double-decker relief buses. This time there was an advertising truck saying "Google Lisa McPherson" and "www.xenu.net" with the Anonymous logo. And DSA Stefania couldn't do anything about it!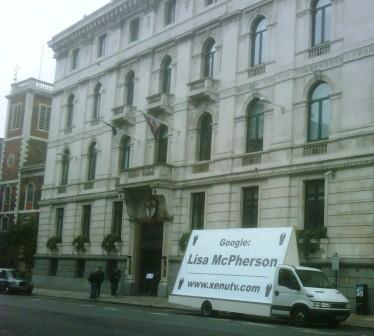 There must have been some activity inside the "org" as although nobody entered in the first hour, ten people left at about noon. Probably a course.
Stefania accompanied a woman we had not seen before out of the building, and when we moved to the Tottenham Court Road bookshop, officially known as the "Dianetics and Life Improvement Centre" we saw that the new female (drafted in from their East Grinstead HQ?) was running the shop (whatever has happened to the long-suffering Martin who has stood there alone throughout the winter?). Her unfamiliarity with the job was no problem as the only customers were the traditional couple having a laugh. Our numbers grew to about twenty.
[Back to John's Homepage] [Back to British BodyThetan Shows page]
[Back to British BodyThetan Society Homepage]
[no BodyThetans were harmed in the making of this page]