BodyThetan Show - March 15 2008
"Anonymous" had called a second world-wide picket against Scientology. Action in London started at the Queen Victoria Street "org" or white elephant. This time there was cake! Hence the chant "We have cake, they have lies". The plasma screens were off and stayed off.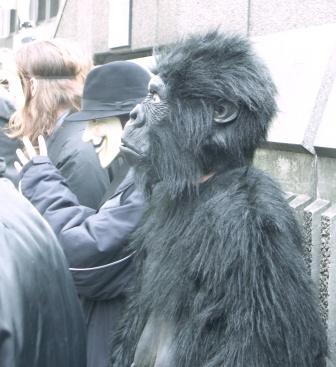 At about one the police led the picketers to St. Paul's Tube station to travel to Tottenham Court Road. The numbers were definitely greater than the previous time, and more people kept arriving. There was more cake, and fried chicken, and more cake, and more chants. The Scientologists shifted people from Queen Victoria Street to Tottenham Court Road, including "Unhappy Girl"
(not the DSA who generally looks miserable, but managed a fixed grimace this day). "Red Tie Man" was not there, probably being forced to attend a course on how to operate plasma screens. Plenty of encouraging klaxons from passing lorries. Many many leaflets handed out.At about four it started to drizzle, and the old codgers retreated from the fray, but "Anonymous" were still going strong an hour later.
Over 10,000 picketers world-wide and pickets at Brighton. Poole, Plymouth, Birmingham, Manchester, Edinburgh, York, Belfast and Dublin.
[Back to John's Homepage] [Back to British BodyThetan Shows page]
[Back to British BodyThetan Society Homepage]
[no BodyThetans were harmed in the making of this page]