Middlesex

Middlesex Homepage
Middlesex unofficial homepage
The Seaxe Club
Lord's
St John's Wood NW8 8QN. Off Wellington Road, half a mile from St John's Wood Tube, 3/4 mile from Baker Street Tube. The new Grandstand is magnificent (Father Time has been moved across the ground to the top of a pillar between the Mound and Tavern stands, which used to hold the scoreboard, now an electronic board atop the Allen stand, opposite the other scoreboard behind the Compton stand) and is (unless you insist on being in line with the wickets) the best viewing position in the ground (you can even see Big Ben [strictly speaking, the Elizabeth Tower] from the top tier - it is also visible from the Oval. The Compton and Edrich stands, separated by the spaceship-like Media Centre have now been rebuilt to give an extra tier on eah stand, and to give the lower tiers more space and more headroon, thus eliminating the dark windtunnel effect of the previous structure. All seats now padded. Even if rain stops play you can visit the excellent museum and gaze wistfully at the Ashes....
Tel: 020 7289 1300
e-mail: enquiries@middlesexccc.com
| | | | |
| --- | --- | --- | --- |
| Admission Charges (Advance Sales Only) | Adult | Under 16 | Over 65 |
| County Championship | 20.00 | 5.00 | 10.00 (Free on 4th day) |
| One Day Cup (Radlett) | 20.00 | 5.00 | 10.00 |
| Twenty20 | 30.00 | 10.00 | |
| Twenty20 (Radlett) | 20.00 | 5.00 | 10.00 |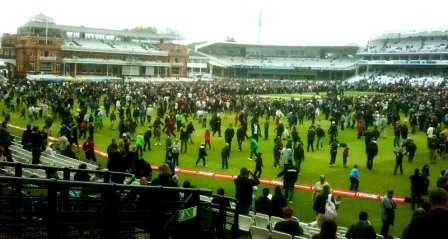 Merchant Taylors' School
Sandy Lodge, Northwood, Middlesex, HA6 2HT

Nearest Tube: Moor Park
"On arrival at Moor Park Station, double back along passage under railway and emerge opposite the station entrance, turn left and take path through barrier to spinney , cross road to school gates and proceed along Long Drive (800m) to second barrier ; turn left down drive."
Middlesex play on one of the many pitches at the school.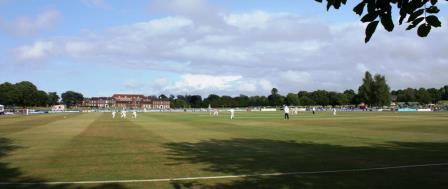 Richmond
Actually on the Surrey rather than the Middlesex side of the River Thames, between Kew Gardens and Old Deer Park, half a mile from Richmond BR and Tube.. Despite the tree-girt setting it is probably the noisiest ground, being directly under the landing path into Heathrow Airport.
Shenley Park
Another out-of-county ground, in Hertfordshire. Between Radlett and Shenley, just over a mile east of Radlett station, up Shenley Hill, past the golf course. An idyllic circular ground, surrounded by trees.
Radlett
Near Shenley Park, but this time about a mile south of Radlett station, along Watling Street, next to Tabard Rugby Football Club.

Southgate
Waterfall Road, 3/4 mile from Southgate Underground (south along the High Street, the spire of the church next to the ground is visible from the station), 1 mile from New Southgate railway station.

Uxbridge

Tel: 01895-237571
Gatting Way, Park Road. 1 mile east from Uxbridge Tube, along High Street or Belmont Road and turn north up Park Road. Almost certainly the only first-class ground ever to have been hit by a meteorite during a game (21st July 2010, the first day of a Middlesex-Sussex match) or maybe it was just some debris that fell off an aircraft.

Map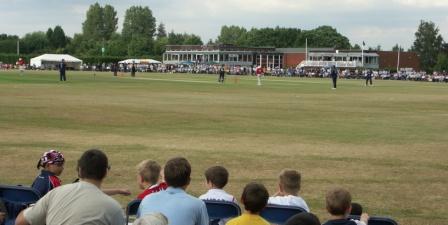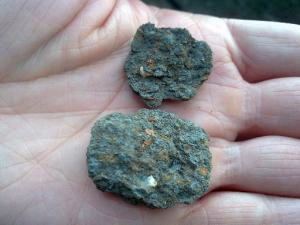 [Back to Grounds Index]
[Back to John's Homepage]